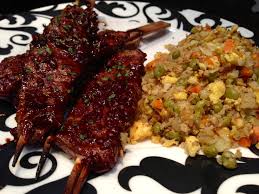 Ingredients 
Edit
1½ lbs sirloin steak
3 tablespoons red wine vinegar
2 teaspoons hot red paprika
1 teaspoon salt
1 teaspoon fresh ground black pepper
½ teaspoon ground cumin
½ teaspoon ground turmeric
3 tablespoons chopped fresh cilantro
1 teaspoon salt
1 teaspoon hot paprika
½ teaspoon fresh ground black pepper
¼ teaspoon ground turmeric
Pepper sauce 
Edit
1 large yellow bell pepper
¼ cup finely chopped green onions
2 tablespoons white vinegar
1 tablespoon water
1 tablespoon olive oil
1 tablespoon fresh lemon juice
1 teaspoon ground cumin
1 teaspoon hot paprika
½ teaspoon ground turmeric
¼ teaspoon black pepper
1 clove garlic
Directions 
Edit
Combine all beef ingredients in a bowl.
Toss well.
Cover and chill to marinate for 3 hours.
Combine rub ingredients.
Prepare grill.
Combine all the rub ingredients *rub the rub all over the meat.
Grill for 6 minutes.
Broil the meat in the oven.
Pepper sauce 
Edit
Broil the pepper halves.
Place them in a ziplock bag and seal it.
Peel the skins off and chop up the pepper.
Put the pepper chunks and sauce ingredients in a blender and grind up.
Community content is available under
CC-BY-SA
unless otherwise noted.