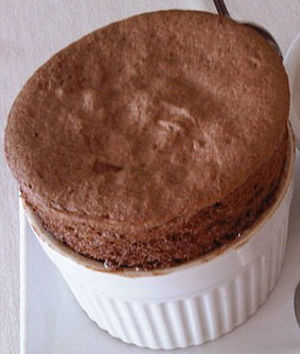 Prep Time:
Cook time:
Serves:
Description
Edit
This recipe is Vegetarian, Gluten free, Wheat free and Dairy free.
Ingredients
Edit
30 g (1 oz) 2 tablespoons of dairy free margarine 30 g (1 oz) scant 1/4 cup of rice flour 200 ml (7 fl oz) 3 1/2 cup of soya milk 2 tablespoons of Cointreau or any orange liqueur 1 tablespoon of caster (superfine) sugar 140 g (5 oz) of (dairy free / gluten free) luxury dark chocolate broken up 4 large free-range egg yolks 6 egg whites Pinch of salt
Directions
Edit
Grease 1 1/2 litre (2 pint) 3 US pint souffle dish, with Dairy free margarine and dusted with a little extra caster (superfine) sugar
Preheat the oven to 200°C (400°F) Gas mark 6
Melt the margarine in a saucepan. sift in the flour and gradually beat in the milk. Bring to the boil, stirring all the time.
When the sauce is thick and smooth, add the Cointreau, a tablespoon of caster (superfine) sugar and the chocolate pieces.
Remove from the heat and stir until the chocolate has melted and blended with the other ingredients.
Mix in the egg yolks. Now whisk the egg whites, with a pinch of salt, in a bowl until stiff.
Stir 1 spoonful of the egg whites into the chocolate mixture and then fold in the rest with a metal spoon.
Turn the mixture into the prepared souffle dish and bake, for 30 minutes until puffed, but just firm in the centre.
Serve immediately.
Community content is available under
CC-BY-SA
unless otherwise noted.