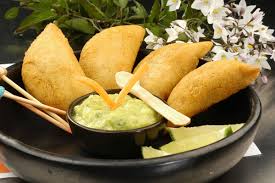 Description
Edit
Empanadas Paisas are turnovers filled with pork, beef, onion and scallion.
Ingredients
Edit
½ lb each of pork and beef
1 tbsp each of onion and scallion, chopped
1 tsp each of ground cumin seed and salt
dash pepper
2 tbsp vegetable oil
2 cups water
½ cup each of chopped onions and chopped scallions
4 small tomatoes, peeled and chopped
1 lb (4 medium-sized) potatoes, boiled with skin
½ tbsp fresh cumin seed, ground
½ tbsp salt
½ tsp pepper
1 lb dry yellow corn
1 tbsp salt
2 tbsp cornstarch
2 tbsp brown sugar
Directions 
Edit
The night before, marinate the meat with the onions, scallions, salt, pepper and ground cumin seed.
The next day, brown the meat in the vegetable oil.
Then return the marinade and add water.
Cook until meat is tender (40 minutes).
Remove and grind meat.
Sauté the onions and scallions in 4 tsp oil.
Add the chopped tomatoes and fry an additional 3 or 4 minutes.
Mix in the ground meat and meat stock and cook for about 10 minutes.
Peel and mash the cooled, boiled potatoes and add them to the meat and vegetable mixture.
Mix the salt, pepper and ground cumin seed into the meat and potato mixture.
Apart, boil the dry yellow corn in sufficient water to cover the corn, for about half an hour.
Put the cooked corn through a grinder.
Knead the dough until it is thoroughly mixed and form a firm ball.
Pick off small pieces and form into the size of small balls.
Flatten each piece thin.
Put about 1 teaspoon of the meat mixture in the center of the flattened ball.
Fold over and pinch edges together to close and form a pretty edge.
Place in deep, hot vegetable oil and fry about 3 or 4 minutes until golden brown.
Remove and put on paper towels in a colander.