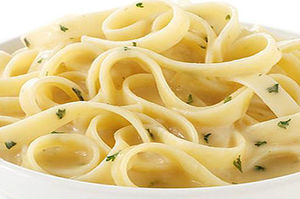 Description 
Edit
Fettuccine alfredo is a pasta dish made from fettuccine pasta tossed with Parmesan cheese and butter. As the cheese melts, it emulsifies the liquids to form a smooth and rich coating on the pasta. It was named by an Italian restaurateur at his restaurant Alfredo alla Scrofa in Rome. In US cuisine it may be mixed with other ingredients such as broccoli, peas, parsley, cream, garlic, shrimp, and chicken, bacon,.
Ingredients
Edit
1 package silken Tofu
1 tbsp soy margerine
1/4 cup soy sour cream (sour Soy Cream with lemon juice or vinegar or use Soy Yogurt)
2 tbsp soy cream cheese
1/4 cup vegan parmesan
1 tsp garlic powder
salt and pepper
soymilk
Directions 
Edit
Put all into a blender with 1/2 cup soymilk. Blend to a creamy sauce, adding soymilk to achieve desired consistency. Heat gently until hot, but do not boil.
Serve over fetticini pasta, optionally sprinkled with chopped parsely