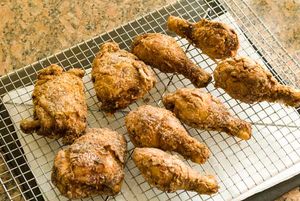 4 to 6 servings
Courtesy of: Shauna James Ahern and Food Network
Ingredients
Edit
1 tablespoon paprika 
2 teaspoons garlic powder 
2 teaspoons onion powder 
Kosher salt and cracked black pepper 
560 grams all-purpose gluten-free flour mix 
1 tablespoon smoked paprika 
2 chicken breasts, each cut in half 
2 chicken thighs
2 chicken legs 
2 chicken wings 
1/2 cup canola oil (you could also use grapeseed or vegetable oil) 
Directions
Edit
Preparing to cook: Heat the oven to 450 degrees F. Lay down a piece of parchment paper on a baking sheet.
Making the batter: Whisk together the buttermilk, paprika, garlic power, and onion powder. Add a pinch of salt and pepper and stir.
Making the flour: Whisk together a pinch each of salt and pepper, flour mix, and smoked paprika.
Dipping the chicken: Set a large cast-iron skillet on medium-high heat. As the pan is heating, line up the chicken, the bowl of batter, and the spiced flour. Pour the oil into the hot pan.
Frying the chicken: When the oil has reached 375 degrees F, dip a piece of chicken in the batter. Shake off any excess liquid. Dip the chicken in the flour and coat it entirely. Place the chicken in the hot oil. Repeat with all the pieces of chicken.
(Don't overcrowd the pan. You can always do this in two batches.)
Flip the chicken pieces when the bottoms are nicely browned. When both sides are browned, put the chicken pieces onto the prepared baking sheet.
Finishing the chicken: When all the chicken has been browned and laid on the baking sheet, put the baking sheet in the oven. Cook the chicken until the legs have reached an internal temperature of 185 degrees F and the breasts measure 155 degrees F.
Community content is available under
CC-BY-SA
unless otherwise noted.