Description 
Edit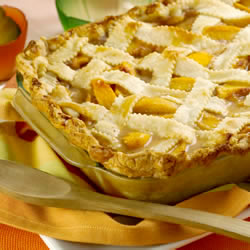 This recipe originally belonged to my Memaw. It's great served  warm with a scoop or two of vanilla ice cream.
Image found at AllRecipes.com
MegEl 02:55, November 4, 2009 (UTC)
Ingredients
Edit
¼ cup + 2 tablespoons butter
2 cups sugar (divided)
¾ cup flour
2 teaspoon baking powder
dash salt
¾ cup milk
2 cups sliced peaches
Directions
Edit
Melt butter in a 2-quart baking dish.
Combine 1 cup of sugar, flour, baking powder, and salt.
Add milk and stir till mixed.
Pour batter over butter in baking dish; do not stir.
Combine peaches and remaining sugar.
Spoon over batter.
Do not stir.
Bake at 350°F for 1 hour.