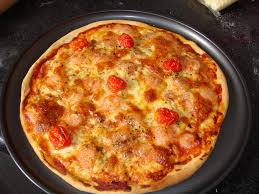 Ingredients 
Edit
1½ oz butter
1 tsp sweet paprika
2 medium onions, finely chopped
3 large tomatoes, peeled, seeded and chopped
salt and pepper
2 medium sized new potatoes, cooked and cubed
4 large eggs, separated
1 lb raw prawns, peeled and cut
Directions 
Edit
Heat the butter in a pan.
Stir in the onions and paprika and saute.
Add the tomatoes and season to taste.
Cook for about 5 minutes.
Add the potatoes and cook for a few more minutes.
Beat the egg yolks.
In a separate bpwl beat the egg whites.
Fold the whites and yolks together.
Return the frying pan to the heat, fold in the prawns and cook for 2–3 minutes.
Fold in the eggs, mixing well.
Cook.
Serve with a green salad.