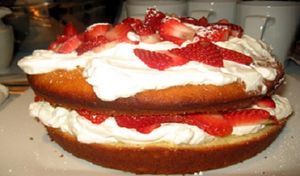 Prep Time:
 25 minutes
Cook Time: 12 minutes
Yields: 6 servings
Description 
Edit
Fluffy, creamy, sweet. All are words that describe Strawberry Shortcake, but none of them compare to actually tasting this sweet summer treat. If you don't want to make individual cakes, you can make one large for everyone to enjoy!
Ingredients 
Edit
2 cups flour
¼ cup sugar
4 teaspoons baking powder
¼ teaspoon salt
dash of nutmeg
½ cup butter or margarine
½ cup milk
2 eggs, separated
2 pints fresh strawberries, washed, stemmed and sliced
Directions 
Edit
1. Sift flour, sugar, baking powder, salt and nutmeg into a large bowl. Cut in butter to resemble coarse meal.
2. In a separate bowl, blend milk and egg yolks with a fork.
3. Stir milk and egg yolks into the flour mixture, and continue mixing until a soft dough is formed.
4. Preheat oven to 450 degrees F.
5. Equally divide dough into 6 portions and pat out on a greased baking sheet until you have (6) 3-inch circles. Be sure to moisten fingers with egg whites as you go along.
6. Brush cakes with egg whites and sprinkle with sugar.
7. Bake cakes for 10-12 minutes or until the top of cakes have a golden color. Remove from oven and allow cakes to cool.
8. Sweeten strawberries with sugar if necessary.
9. Cut cakes in half horizontally and fill strawberries and whipped cream.
10. Serve.
Community content is available under
CC-BY-SA
unless otherwise noted.