Description 
Edit
Delicious dessert.
Ingredients 
Edit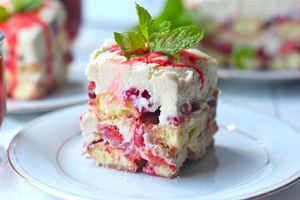 * 2 packages (8 ounces each) Neufchatel Cheese, softened
3/4 cup powdered sugar
1 container (8 ounces) frozen light whipped topping, defrosted
1 cup strong coffee, at room temperature
3 tablespoons coffee-flavored liqueur (optional)
1 1/2 pint baskets California strawberries (18 ounces total), stemmed and sliced
24 ladyfingers split in half
2 teaspoons unsweetened cocoa powder
Directions 
Edit
In large mixer bowl, beat Neufchatel Cheese and powdered sugar until well blended. Gradually fold in whipped topping to blend. In small bowl, combine coffee and liqueur, if desired. Line an 8 x 8-inch glass baking dish with enough ladyfinger halves to cover bottom; place rounded sides down. If necessary, cut ladyfingers to fit dish. Spoon 1/3-cup coffee mixture evenly over ladyfingers. Top with one-third of the Cheese mixture (about one cup) and spread evenly. Layer one-third of the strawberries (1 rounded cup) over Cheese. Repeat layers two more times, ending with Cheese and reserving remaining strawberries. Cover and refrigerate tiramisu and reserved strawberries at least 1 hour or up to 24 hours. To serve, remove cover; sift cocoa powder over top. Arrange reserved strawberries over cocoa. Serve immediately. Yield: Makes 12 servings.