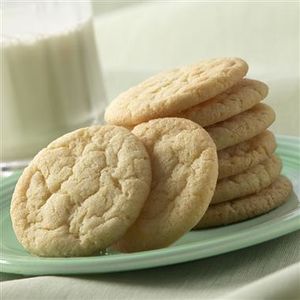 Prep Time:
 20 minutes
Cook Time: 13 minutes
Yields: 8-10 servings
Description 
Edit
Ingredients 
Edit
1 cup butter, softened
1 cup powdered sugar
1 cup granulated sugar
2 eggs
1 cup salad oil
2 tsp vanilla
1 tsp grated lemon peel
4¼ cup flour
1 tsp baking soda
1 tsp cream of tartar
1 tsp salt
plain or colored sugar
Directions 
Edit
1. Cream butter and sugars; beat in eggs one at a time until light and fluffy.
2. Beat in oil, vanilla and lemon peel.
3. Combine dry ingredients and gradually add to sugar mixture, beating till well blended.
4. Wrap in wax paper; chill several hours.
5. Preheat oven to 350°F. Grease 2 cookie sheets.
6. Divide dough into thirds (keep ⅓ out, refrigerate the rest till needed).
7. Form heaping tsp of dough into ball and place on cookie sheet.
8. Flatten dough to 2" diameter with bottom of glass dipped in sugar.
9. Sprinkle with plain or colored sugar and bake 8 - 10 minutes or until cookies are lightly browned.
10. Allow cookies to stand on cookie sheet for an additional 2 – 3 minutes before removing.